The pest control pros at EnviroPest have a piece of advice for holiday travelers: don't bring bed bugs home with you. Sure, it might sound simple but take our word for it, encountering bed bugs while traveling is more common than you might think, and bringing them home (albeit unknowingly) is easier than you would expect.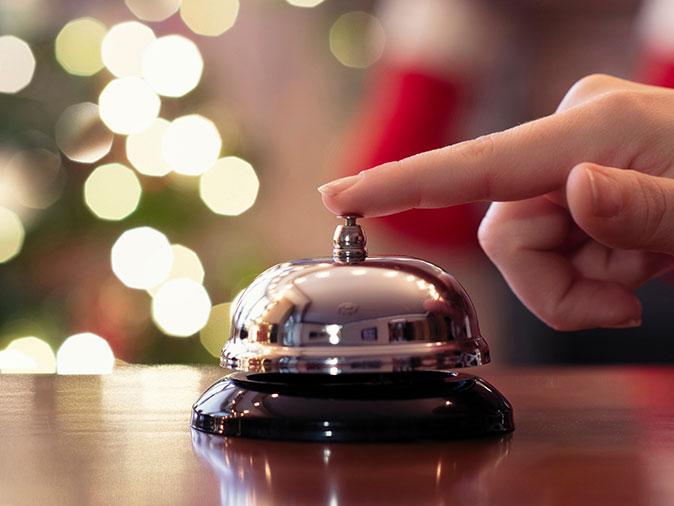 Bed bug bites don't always show up right away
If you or a family member discovers bed bug bites several days after you've returned home, don't panic. In our experience and according to the CDC, bites appear anywhere from one to several days after the initial bite. Suddenly developing bite marks doesn't necessarily mean you brought these bugs home with you. To make sure you are bed bug free though, inspect your own beds and furniture for any signs of bed bug activity.
Where do bed bugs hide?
Since bed bugs survive by feeding on human blood, they're going to stick close to people. In hotel rooms and Airbnb bedrooms, this includes beds, nightstands, upholstered furniture, and curtains. They may also hide behind clocks, mirrors, and art on the walls, inside electronics, and even in unusual spots like where the carpet/floor and wall meet. If there's a pullout couch and upholstered furniture in a common area or living room, they may hide out there too.
Bed bug prevention tips for travelers
To avoid bringing bed bugs home with you, the first thing you should do is inspect your lodgings for live bed bugs or other signs of an infestation. This is best completed before you bring your suitcases in. Our recommendation is to leave part of your traveling party in the hallway with the luggage, while the rest of you turn your phones' flashlights on and begin the bed bug inspection.
Inspect every single bed first, and that includes the mattress, box spring, headboard, and frame. These bugs often hang out around seams so pay close attention to those areas. You should also check every piece of wood and upholstered furniture, and the other hiding spots we mentioned above.
If you're confident you don't see adult bed bugs, bed bug eggs, nymphs, feces, shed skins, or other evidence of these bugs, you can go ahead and let the others in BUT don't set your suitcases on the floor. Instead, use the luggage racks provided and keep your clothes in your bags rather than unpack them.
Make sure you only brought home the souvenirs you paid for
Just because you didn't see bed bugs while on vacation, doesn't mean you won't bring them home with you. After all, you need to make your way home and even if you drove, there's a chance you'll pull off the road for at least a night. To make sure you don't introduce bed bugs into your house at the end of your trip, here's what our Denver bed bug removal specialists recommend:
Inspect your luggage for bed bugs out in the garage or even in the driveway
Check your purse and carry-ons for bed bugs before you bring them inside
Wipe down your suitcases (hopefully, they're the hard-shelled ones) and seal them in plastic before putting them away
Wash your clothes at the hottest temperature and dry them on the hottest heat the fabric will allow right away.
What to do if you think you may have brought bed bugs home
If you have reason to suspect your holiday travels resulted in a bed bug infestation, contact EnviroPest right away. When it comes to bed bugs, it's important that you don't ignore the problem; it will not go away until the proper treatment has been administered.
How our Colorado bed bug removal specialists get rid of bed bugs
At EnviroPest, we offer effective bed bug treatments in Denver, Boulder, Colorado Springs, and Loveland as well as throughout Northern Colorado. When you contact us for help resolving your bed bug problem, we will:
Inspect your property for bed bug activity
Determine what rooms have been affected and how severe the infestation is
Recommend a bed bug treatment plan
Provide you with information on how to prepare for your bed bug control service
Return once the prep work has been done to perform a bed bug heat treatment
Issue you a bed bug warranty if your home qualifies (don't worry, your bed bug specialist will go over this)
Don't lose another night's sleep, contact EnviroPest if you're worried about bed bugs in your home (or business)!
Source: Pest News 3
Original Source link ==> Bed Bugs & Holiday Travel
All third party News, Content, company names, brand names, trademarks showed on website are the property of their particular proprietors. we are not a copyrights of it, it just a sharing informative blog
All material is copyrighted by the respected publishers. It is published on the internet only for the sake of promoting.
If you believe that your work has been copied in a way that constitutes copyright infringement, contact us. xclusivedevelopers@gmail.com.
Fumigation In Karachi