Continuing in our unofficial series of pests in the kitchen this month, let's turn our attention to mice. While it's true, Colorado homeowners often find mice in the attic, in the garage, or other storage areas among other spaces, it's also true mice are a common problem in and around kitchens. In this blog post, we'll take a closer look at this particular pest problem including what attracts them, where they hide, what they do when they're active at night, and more.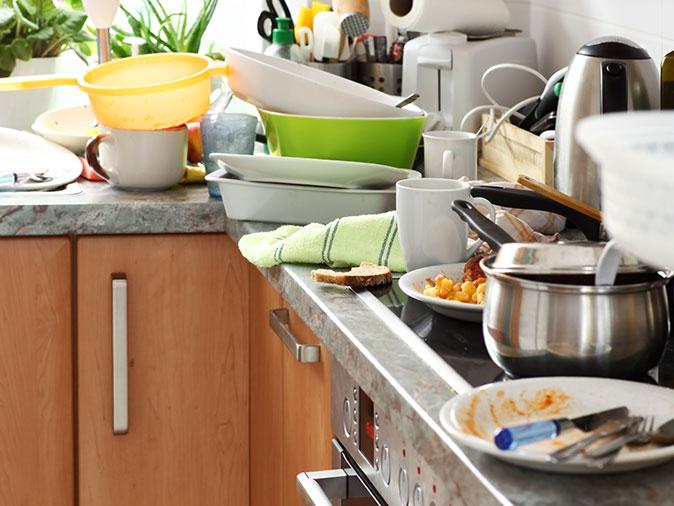 What mice need to survive
When it comes to survival, mice only need three things and that's food, water, and shelter that protects against predators and the weather. They do have access to all three elements outside, but when winter arrives in the Rocky Mountain state, it becomes more challenging to secure the necessities. Plus, there are not too many places where mice can stay as warm outside as they can inside homes. Unfortunately, kitchens have everything mice need to not only survive but thrive.
Where mice hide when they infest kitchens
Common hiding spots for mice in kitchens include, but are not limited to:
Behind and/or under kitchen appliances
Kitchen cabinet bases
Pantries
Under the kitchen sink
Although mice may hide in kitchens, they are also willing to travel back and forth from some other part of the house. Common places for mice to hide apart from the kitchen include attics, garages, basements, and storage closets as well as in wall voids, in ceilings, and under floorboards.
What happens when mice come out at night
Mice are commensal rodents; commensal is defined as "sharing one's table". Simply put, they live off humans. Don't be fooled though, just because they depend on us for their very survival, they don't want anything to do with us and they certainly don't offer anything in return… unless you count damage and health risks.
In order to avoid interacting with people, mice (and other rodents) tend to do most of their feeding during the nighttime hours when the household is asleep. As they search the residence for food and water, mice will scurry across kitchen floors and countertops, rummage in pantries, and anywhere else where food has been left out. They may also check out the sink for dirty dishes.
In addition to food and water, mice may also gather nesting materials from the kitchen and other places around the house.
Mice are more than a nuisance, they're a significant threat to people and property
Mice cause serious property damage and even create fire hazards when they chew on everything they can find and when they build nests. Wires, pipes, and other building materials are often a target for these destructive critters as are household belongings.
In addition to the damage they cause, mice spread bacteria and more than 35 diseases including Hantavirus and salmonella.
Mouse prevention tips
To keep mice out of the kitchen, it's important to maintain good sanitation habits, such as:
Keeping kitchen counters and floors clear of crumbs and spills
Washing dishes before they pile up in the sink
Storing food in airtight containers
Repairing leaking appliances or pipes
It would also be wise to seal off any holes on the outside of the home that mice could use to sneak inside, keep exterior trash cans covered with tight-fitting lids, and eliminate any clutter inside and out.
What to do if you find signs of mice activity in your kitchen
If you've found mouse poop on a counter, watched a mouse scurry across the floor, or have noticed other signs of activity in your home, getting rid of mice can be easy when you contact EnviroPest right away.
Our locally operated Colorado pest control company offers effective pest control services in Denver, Boulder, Colorado Springs, and Loveland as well as throughout NoCo. Our Colorado's Choice Smart Service offers homeowners the best protection against mice and other common household pests. To learn more, please check out the plan features below or give us a call.
{{ _api.contentSnippet.get('program-colorados-choice-complete-no-pricing') }}
Source: Pest News 3
Original Source link ==> Mice And Kitchens
All third party News, Content, company names, brand names, trademarks showed on website are the property of their particular proprietors. we are not a copyrights of it, it just a sharing informative blog
All material is copyrighted by the respected publishers. It is published on the internet only for the sake of promoting.
If you believe that your work has been copied in a way that constitutes copyright infringement, contact us. xclusivedevelopers@gmail.com.
Fumigation In Karachi